Nowadays, Cloud-services are on the demand, most of the users and business organization prefers Cloud-based services over Desktop-based services for their personal and professional use. Well, we all are familiar with Cloud-based services because of its flexible nature. So, are you the one who is using Cloud services? But, what will you do if you want to create a backup of your mailboxes or extract email message? Well, don't worry we will take care of your all problems that's why we are here. Today we will discuss the best method which extract email message from various Cloud-based services. So, this article will help you to extract an email message from your mailboxes essential data without hassle.
How to Extract Emails from Various Cloud-Based Services?
As we know, Cloud-based service is one of the best services which enable the user to use services according to their need without any installation through the internet. Some of these services are Gmail, G Suite, Yahoo Mail, Office 365, Outlook.com, Exchange Server, MDaemon Cloud, Amazon WorkMail, Zoho Mail, Rediffmail etc.
As discussed above, several Cloud-based services are having separate mailboxes. And they do not provide any type of backup option. So, that Email Extractor Wizard is the expert solution that allows you to export email messages from 90+ cloud-based services to various file formats. For example, PST, MSG, EML, EMLX, MBOX, PDF, HTML, MHT, XPS, RTF, DOC, Windows Live Mail, CSV, Lotus Notes, Zimbra, Thunderbird, Zip, Gmail, Outlook.com, Yahoo, Rediffmail, Office 365, Exchange Server.
How The Extract Email Message Software Exactly Works?
Follow the mention steps to extract email messages from various cloud services to different file formats.
Download and Install the recommended software in your system to extract Email Messages.
Run the tool and choose an email service from the list of various cloud service options.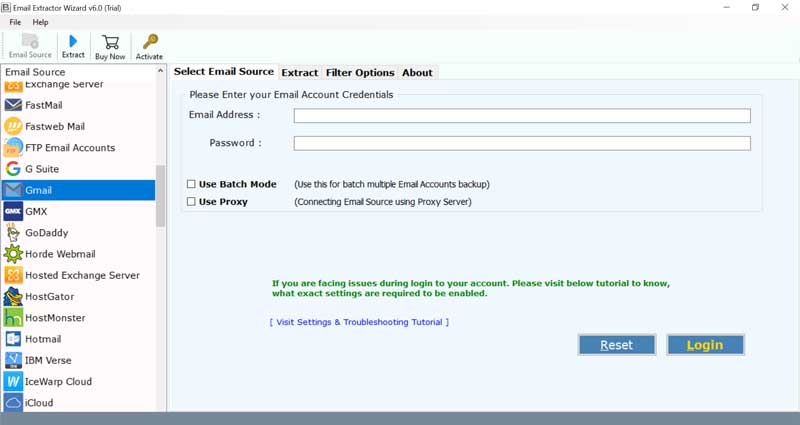 Fill the credentials details of selected email service, click the Login button.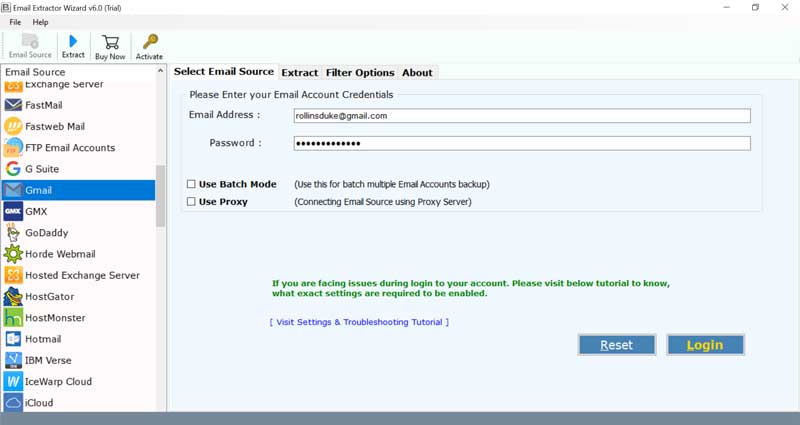 Now, enable the desired email folder in which you want to extract email messages from your mailbox.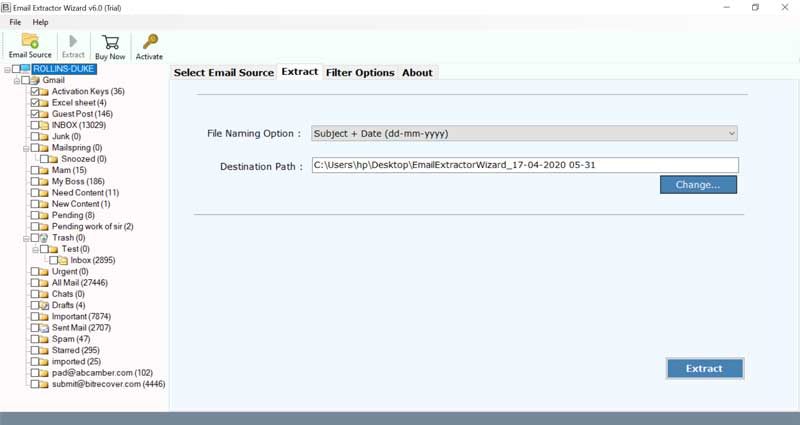 After that, choose a File Saving Option from the drop-down list.
Now, it will display File Naming Option, choose one of them according to your requirement.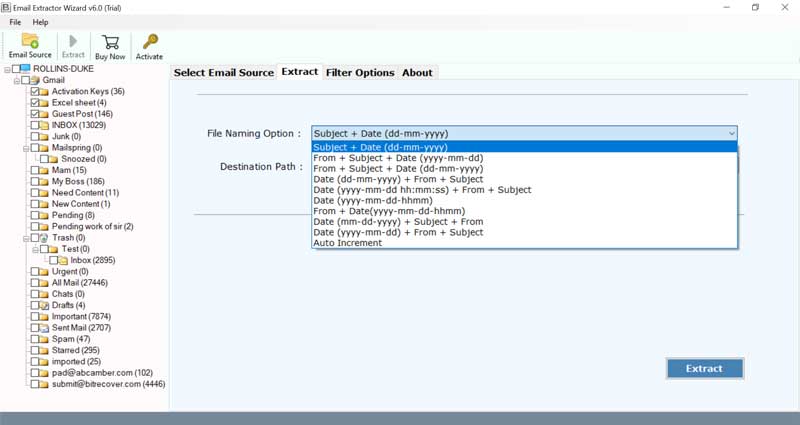 The software provides filter options to extract selective email messages.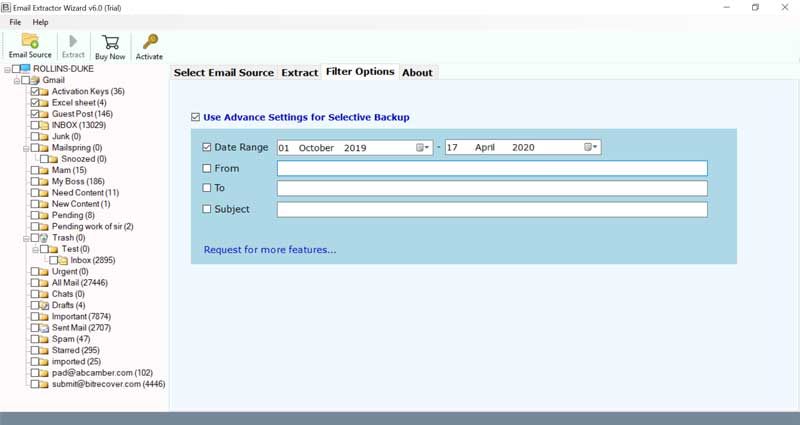 Click on the Choose button to select the destination location for storing resultant data and tap the Backup button.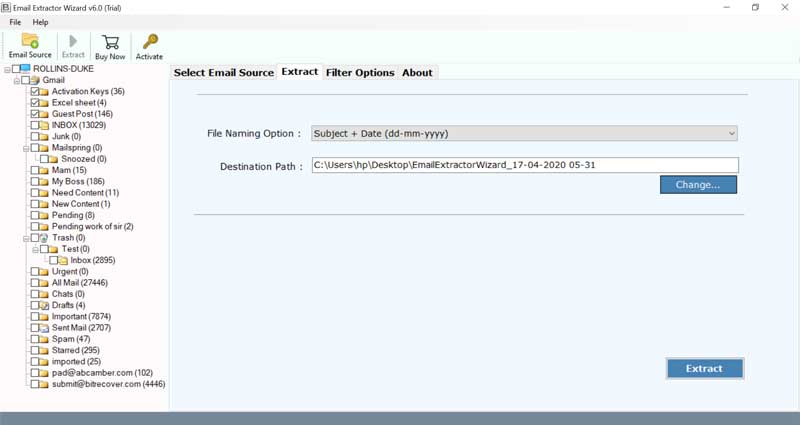 Now the software will start the extraction process to extract email messages.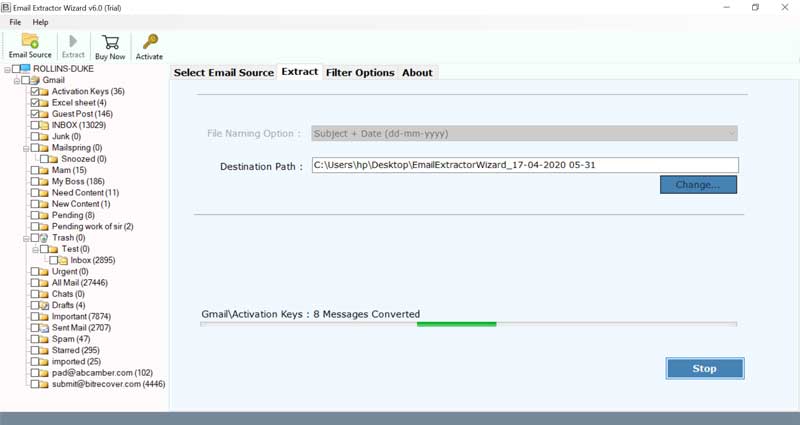 After completing the extraction process it will display a completed message.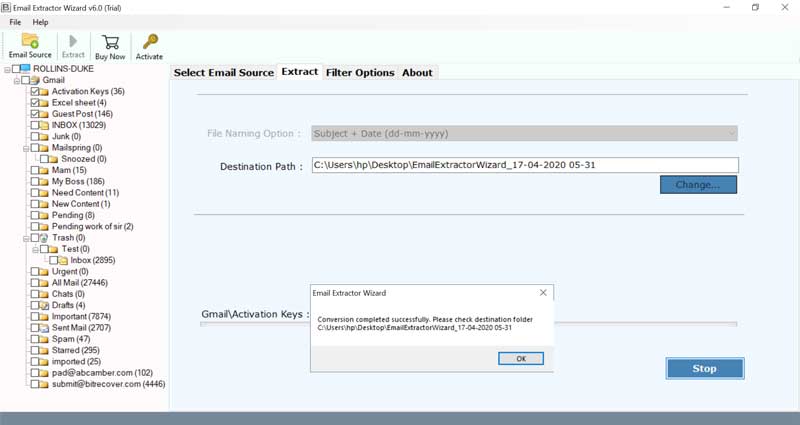 Highlighted Features of Email Extractor Tool
The tool provides advanced features to export email messages in 25 + file formats like PST, PDF, MSG, EML, EMLX, MBOX, etc.
Option to extract mailboxes from 90+ cloud-based services like Gmail, G Suite, Yahoo Mail, Office 365, Outlook.com, Exchange Server, MDaemon Cloud, Amazon WorkMail, Zoho Mail, Rediffmail etc.
The utility has a filter option which enables users to store email message from selected date to date, sender email address, receiver email address, email subject, etc.
The software provides various File naming options to manage the resultant email message and documents.
Extract complete mailboxes emails along with attributes and components.
Maintains original folder structure while processing and provide accurate result after extraction.
The tool designed with a high technology algorithm. It has a user-friendly interface which can easily operate by non-technical user.
Final Words
We have tested this powerful Email Extractor on an expert level and found it works amazingly. After considering all the benefits, features, performance, and user's feedback, we would like to recommend, every user who wants to extract an email message from cloud service into different file formats. Must use the best email extractor tool.