If your Windows 10 operating system runs very slow or even stops working, it may be caught into a problem. What can you do to solve this problem?
Usually, you would search on internet for the solution first of all. Maybe you may find a method if you are lucky. However, the issue will bother you every now and then if it can't be solved radically. So, it is necessary to reinstall your Windows 10.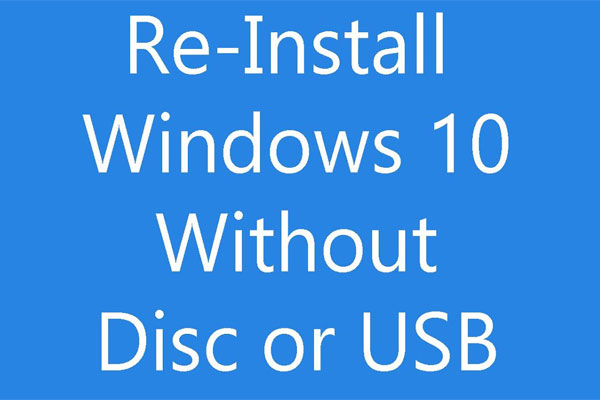 Windows 10 reinstallation can renew and improve performance of your PC of course. Therefore, it is often used as an effective solution to PC slow or not working. Here, we'd like to share with you how to reinstall Windows 10 without CD/USB.
It would be a little difficult to reinstall Windows 10 for ordinary users, especially with no CD/USB. Don't worry. Keep reading the following paragraphs, and you will get the solution.
How to Reinstall Windows 10 without CD/USB
Please Back up Your Important Files in Advance
But at the same time, the data and apps may get lost after reinstalling Windows 10. How to reinstall Windows 10 without losing data? Thus you are recommended to back up the important data before reinstallation. MiniTool ShadowMaker can perform this task perfectly within 3 steps.
Step 1: Install and launch this backup software on the computer that needs backing up. Click Connect to go on.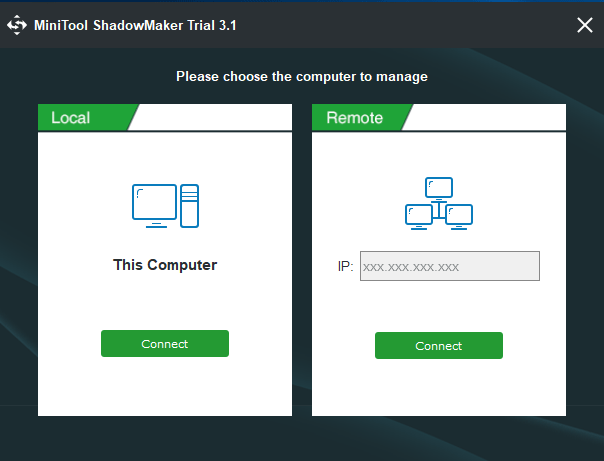 Step 2: Enter the Source section in the Backup window. Select what you want and specify an external hard drive to store the backup files.
Step 3: Hit Back up Now to begin the file backup.
How to Access to an Unbootable PC
If your computer can't boot already, you can use MiniTool ShadowMaker Bootable Edition to back up the needed data.
⑴ Use CD or USB drive to create a bootable disk with Media Builder on a healthy computer.
⑵ Boot the computer (unable to boot) from the bootable disk. Then, you can access to the hard drive and make the backup.
After finishing these steps, the selected files have been backed up to the safe place. Then, you can get down to the Windows 10 reinstallation. In the following sections, you can learn how to do it in two cases.
Case 1. Reinstall Windows 10 without CD/USB
Microsoft has a media creation feature, with which you can create an installation media to upgrade your PC to Windows 10. Or you can choose to install Windows 10 using the ISO file directly.
However, if there is no installation CD or USB flash drive, you have to reinstall Windows 10 with Windows ISO file. Here are the detailed steps.
Step 1. Download the media creation tool on Microsoft website.
Step 2. Make the Windows 10 ISO file.
① After opening the tool, select the option Create installation media for another PC.
  ② select language, architecture and edition.
③ Choose the ISO file to create installation ISO.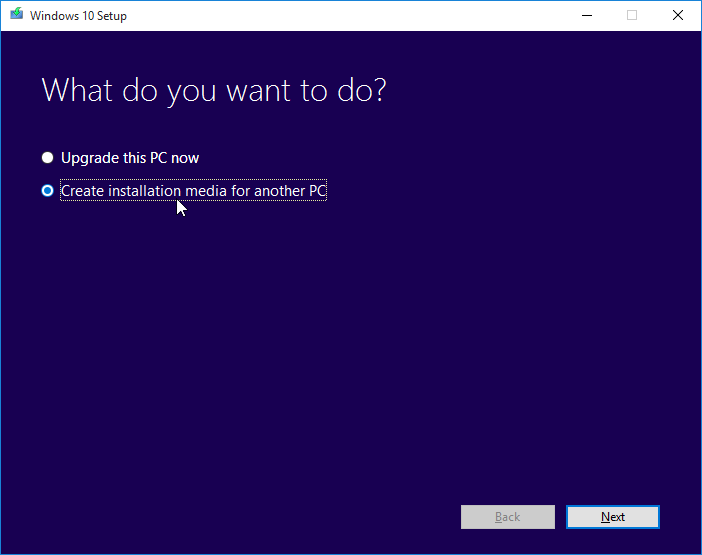 Step 3. You need to mount the ISO file if the Windows 10 is installed from it without CD/USB. Follow the steps to mount the ISO file.
① Right click ISO file and select Properties.
② Go to General tab, click Change. Choose Windows Explorer and then open this file.
③ right click this file and hit Mount.
④ view the files in ISO file and double-click setup.exe to begin.
Step 4. Please choose Download and install the updates (recommended). Then, the updates, with important fixes and device drivers will smooth the installation.
Step 5. Some available updates will be checked. Click Accept in the License term windows.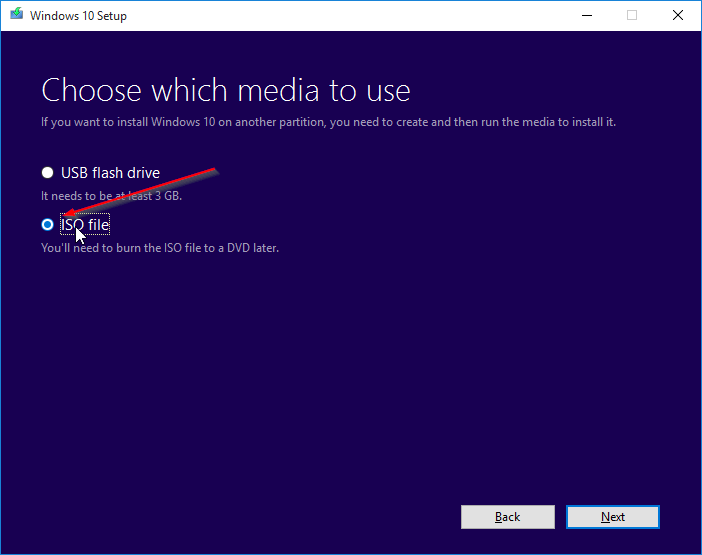 Step 6. The setup will need updates and then download them.
Step 7. After getting everything ready, the screen Ready to install comes into sight. Click Change what to keep.
Step 8. Then, there are three options. The first one Keep personal files, apps, and Windows settings is suggested.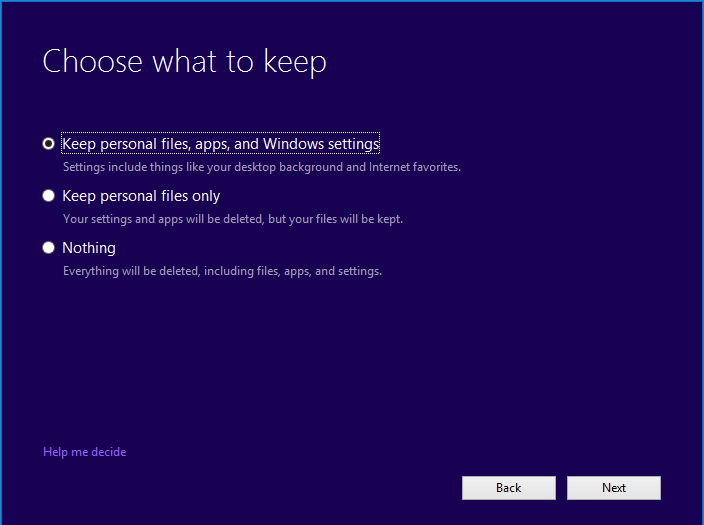 Step 9. When the screen to back to Ready to install, you just click Install to initiate the Windows 10 installation. In the end, just follow the instruction to customize the settings after the installation is over.
Case 2.  Reinstall Windows 10 While Keeping Files
Windows 10 comes with a utility – Reset This PC, with which you can choose to either keep the personal files or remove them when reinstalling Windows 10. This solution is suitable for the PC that is not working well.
The process may be easier to common users because Windows will require neither additional downloads nor installation media to begin the setup. You can achieve it with these steps.
Step 1. Go to Start > Choose Settings > Click Update & security Recovery.
Step 2. In Reset this PC section, click Get started.
Step 3. Choose Keep my files to avoid data loss.
Step 4. A pop-up window says your apps will be removed. Just click Next.
Step 5. In Ready to reset this PC screen, click Reset to reinstall Windows 10 without CD/USB.
Final Words
After reading this post, you may get to know how to reinstall Windows 10 without CD/USB with no data loss. Please choose a suitable one to reinstall Windows 10 on the basis of your needs.
In addition, data backup is always important at all times. ShadowMaker will be helpful to back up your data to avoid unexpected data loss. Don't hesitate to share with us if you have better solutions with Windows 10 installation or questions about this software.